Ravish Kumar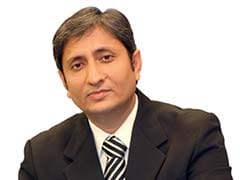 Ravish Kumar
Ravish Kumar
(born 5 December 1974) is an Indian
TV anchor
,
[2]
writer and journalist who covers topics pertaining to Indian politics and society.
[3]
He is the senior executive editor at
NDTV India
,
[4]
the Hindi news channel of the
NDTV
news network and hosts a number of programmes including the channel's flagship weekday show
Prime Time
,
[5]
Hum Log
[6]
and
Ravish Ki Report
.
[7]
During the
2014 Lok Sabha elections
, he did extensive field interviews in several north-Indian states about the opinions and needs of the people on the ground highlighting aspects of rural and sub-urban life which do not receive much attention in television-based network news .
He published a book named
देखते रहिये
(Translated in
English
as
Keep Looking
)
[8]
in 2010. His next book, titled "इश्क़ में शहर होना" ("Ishq Mein Shahar Hona")
[9]
was published by Rajkamal Publishers in 2015. He also writes articles for a number of daily and weekly news and literary publications in Hindi, several of which are also published on his website.
[10]
He has received the prestigious
Ganesh Shankar Vidyarthi
Award for Hindi Journalism and Creative Literature for 2010 from the President of India (awarded in 2014).
[11]
He was honoured with the
Ramnath Goenka
Excellence in Journalism Award for the Journalist of the Year 2013 (Broadcast). He has also won the Indian news television award 2014 for Best News anchor in Hindi
[12]